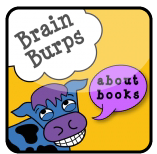 I'm super excited to share this interview I did with author/illustrator, Katie Davis on her fantastic podcast, Brain Burps About Books!
Be a Space Cadet with Graphic Novels! Interview with Dave Roman
We talk about Astronaut Academy, Teen Boat, how art school can make you afraid to draw, proposing through comics, and tons of other fun stuff! My favorite part is just hearing someone else (besides me!) describe and read scenes from Astronaut Academy! I also created a downloadable Doug Hiro comic strip that will debut on her Brain Burps newsletter, so be sure to subscribe!
Katie's blog and podcasts have been super helpful to me these past few weeks leading up to my big book release. I highly recommend it to all creative people looking to learn more about the world of books for kids! It's impossible to not be inspired by all the cool stuff Katie does!