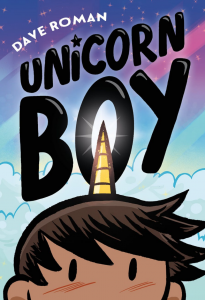 In stores March 12, 2024
The first few years of Brian Reyes' life were unremarkable—nothing weird about this kid, no sir. Then, one day, a bump appeared on his head, and it grew…and grew…and grew until it was a full-blown, sparkling, SINGING unicorn horn. That's absolutely the last thing a shy kid like Brian wants, but destiny waits for no unicorn boy.
Luckily, Brian has his reassuring pal Avery to keep him grounded as weird occurrences start stacking up, like Brian's breakfast muffin talking to him, or a bizarre black cat offering him a business card. But when shadowy creatures from another realm kidnap Avery, Brian has to embrace his fate to rescue his best friend.
In the pages of Unicorn Boy, Dave Roman has created a cast of charming oddballs reckoning with normal, every day problems like heroic destinies and the fate of all magic in the universe. Readers of Narwal and Jelly, Grumpy Unicorn, and InvestiGators will also endear themselves to these lovable characters.
Unicorn Boy publisher's website.
Pre-order on Bookshop.org
Pre-order on Barnes and Noble