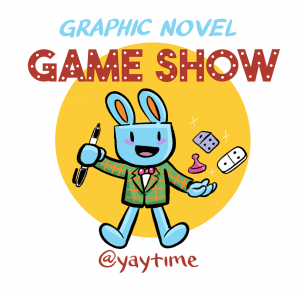 Graphic Novel Game Show @Yaytime is a fast-paced game night where kid volunteers team up with professional cartoonists in a series of fun-filled drawing challenges! The event always includes lots of audience participation, creativity, and silliness!
One of the centerpiece games is Comics Quickfire in which two teams face off to create improvised comic pages based on audience suggestions.
Hosted by Dave Roman, these drawing games have entertained crowds across the country at bookstores, libraries, book festivals, comic cons, educational conferences, and beyond. The traveling show has featured some of the biggest names in comics and kidlit!
VIDEO CLIP:
If you would like to have a Graphic Novel Game Night event at your library, store, or school just reach out to Dave at Yaytime (at) Gmail (dot) com