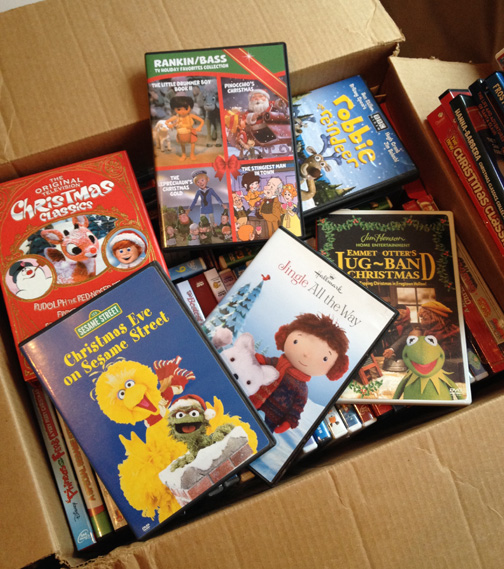 I have a vast love of holiday movies: old, new, and random. Somewhere around 1999 I started trying to specifically watch and collect every holiday thing in existence. Obviously this is impossible, so I've had to narrow my focus on:
1. Christmas Movies: Films where Christmas is the central theme, or affects the outcome of the story, ideally through magic. Not to be confused with "Movies That Take Place at Christmastime."
2. Holiday Specials: Cartoons or puppet-based programs specifically created to capitalize on Christmas, often airing in the evening (on non-cartoon focused channels) or released as an individual DVD/VHS rather than as a season set. Not to be confused with Holiday Episodes of TV shows.
And since people often ask me for recommendations, I figured I'd make a few lists of personal favorites. These are 100% sincere, not ironic endorsements.
DAVE'S MUST-SEE LIST OF HOLIDAY SPECIALS:
"A Muppet Family Christmas" (1987)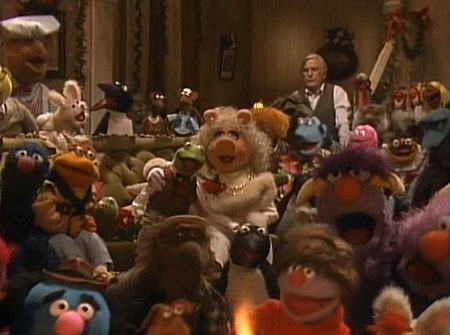 Practically every Muppet in existence (circa 1987) decides to crash at Fozzie's mother's farmhouse, for a raucous yet cozy Christmas. This song-filled crossover features classic Muppet Show, Sesame Street, and Fraggle Rock characters in their prime, by the original performers with unprecedented amounts of nostalgia and memorable gags. No one will ever forget the duet between Big Bird and the Sweedish Chef!
Filmed not too long before Henson passed away, it features a rare speaking cameo from him that chokes me up every time I see it. Most DVD copies have removed several scenes for song copyright issues. The only thing that would have made this even better would have been appearances by Dark Crystal and Labyrinth characters. I gushed in depth about this special in Episode 91 of Saturday Supercast.
"Rudolph the Red-Nosed Reindeer" (1964)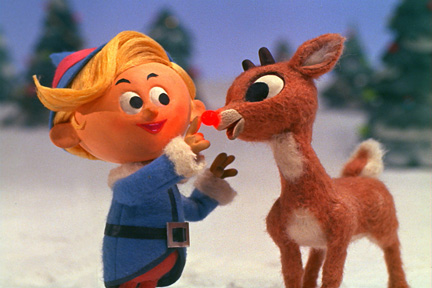 The Rankin/Bass stop motion special that set the standard. Still holds up after all these years as a watershed moment in puppet building and design. It's also hilarious, and filled with lots of 60s satire that catches some people off guard. Santa is intentionally portrayed as a thin shadow of his legendary persona: a gruff, easily annoyed boss who has fallen out of love with the job. In my eyes, this Rudolph special is to Christmas what Mel Brooks' "Young Frankenstein" is to horror films, equal parts parody and love letter. Yes, there is a lot of sincerity thanks to Burl Ives' folksy Snowman narrator and a love song or two, but there's also a lot of laugh out loud jokes that work surprisingly well fifty years after they were written. Compare it to the 1948 version directed by Max Fleischer just to see how self-aware and clever this special really was. Hermey the Elf's non-conformist "you can't fire me, I quit" is possibly the single best lyric in a song of all time. I think the Island of Misfit Toys is a genius idea, and the Abominable Snowman is one of the greatest cartoon monsters ever. Also worth paying special attention to are all the little funny moments with Yukon Cornelius' ragtag assortment of sled dogs.
"Dr. Seuss' How the Grinch Stole Christmas" (1966)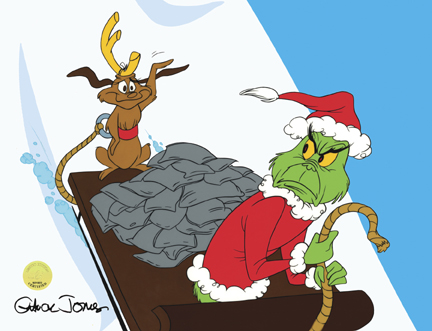 This Chuck Jones classic certainly resides in one of the top spots in the upper echelon of holiday cartoons. So much expressive character animation with tons of timeless visual humor. Shout outs to all the scenes with Max the dog, the pitch-perfect narration by Boris Karloff, and Thurl Ravenscroft singing the fun lyrics of "You're A Mean One, Mr. Grinch."
"Mickey's Christmas Carol" (1981)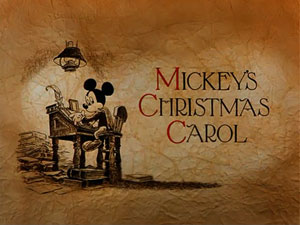 Out of 5 million adaptations of the Charles Dickens story, this is one of the tightest (it's only 26 minutes) and most effective! It manages to hit all the right story notes (without using as many direct lines as other adaptations) and finds clever ways to add character-based humor. Wonderful hand-drawn character animation that is miles beyond most TV cartoons, holiday or otherwise.
"Christmas Eve on Sesame Street" (1978)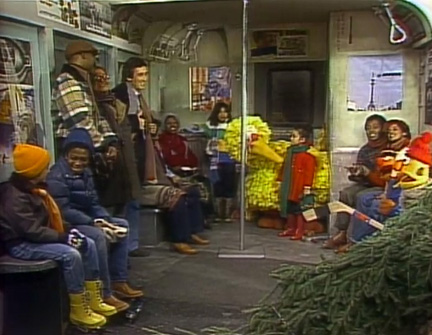 A holiday special filmed during the peak of Sesame Street's 70′s awesomeness. Great bits with Cookie Monster writing to Santa, and real kids explaining to Muppets how Santa gets down the chimney. Especially relevant to kids who grew up in the city.
"The Snowman" (1982)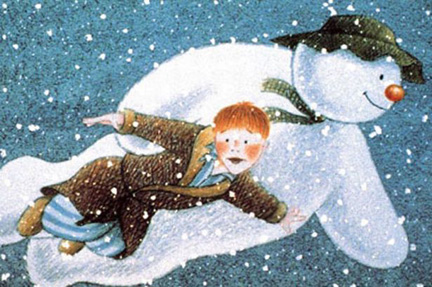 Based on the graphic novel by Raymond Briggs, this is fan favorite amongst animation buffs because of the beautiful colored pencil renderings and depictions of flight. The ending leaves people super depressed, yet we keep coming back for more!
"Emmet Otter's Jugband Christmas" (1977)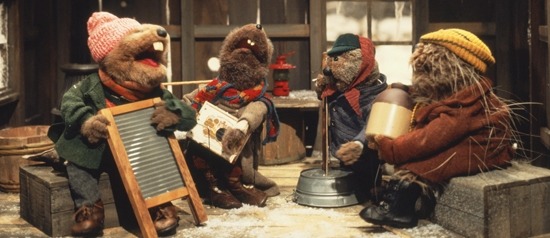 Extremely sincere and old-timey, but sure to warm your frozen heart.
Lots of great bluegrass and gospel-inspired music by Paul Williams. Features an impressive level of puppet detail and miniature sets. I have two versions of this disk. The first one has the original Kermit intro. The other has a ton of extra features and a must-see blooper reel.
"A Charlie Brown Christmas" (1965)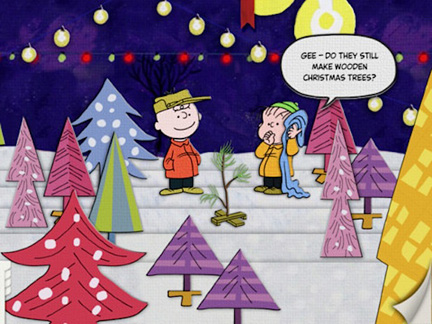 Depression can be funny! One of the most-watched holiday cartoon of all time—and for good reason! If anyone is going to take me to church, it's Linus VanPelt. Classic soundtrack by Vince Guaraldi and charming voice acting. Part of what I love about this special is how raw and low-fi it all feels, much like the little tree at the end of the story.
ADDITIONAL PERSONAL FAVORITE CHRISTMAS SPECIALS:
"The Life and Adventures of Santa Claus" (1985)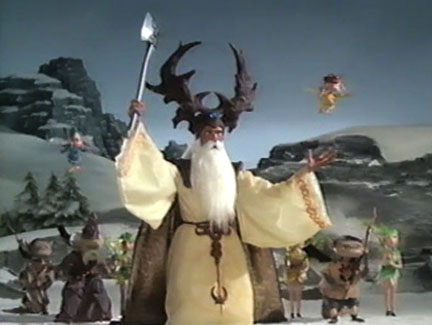 The most starkly different of all the Rankin/Bass specials. This one is based on the story by L. Frank Baum (of Oz fame) and features some mind-blowing pagan forest spirits, and Santa battling monsters who look like awesome Japanese vinyl toys. There are a few groan-filled moments and musical numbers that kill the buzz a bit, but it's still pretty hardcore if you give it a chance. The opening sequence alone is worthwhile watching for any fan of puppet animation or model-making detail. I'd love replicas of almost ever character in this special. I talk in depth about this special in Episode 28 of Saturday Supercast.
"Jack Frost" (1979)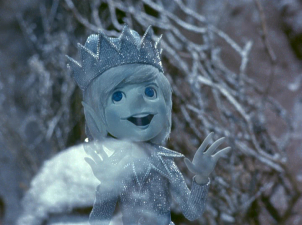 One of Rankin/Bass' most ambitious stop motion films, and a personal favorite of mine. I really dig the winter mythology created just for the special. The character designs are fantastic, and the sets are extremely vast and detailed for the time. It also has steampunk robots, horses, and puppets!
"Father Christmas" (1991)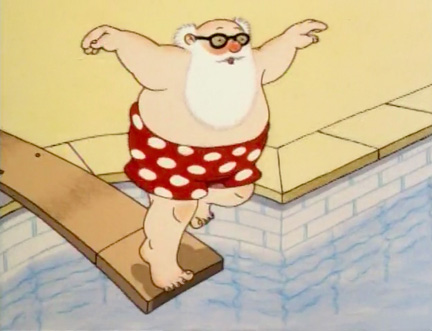 Another animated adaptation of a Raymond Briggs book. The misadventures of Santa on vacation before and after Christmas. He hits up tons of exotic locales including Las Vegas. Santa can't catch a break though, because people recognize him everywhere he goes.
Features a cameo by the Snowman! In a VERY Pulp-Fiction style crossover.
"Garfield Christmas" (1987)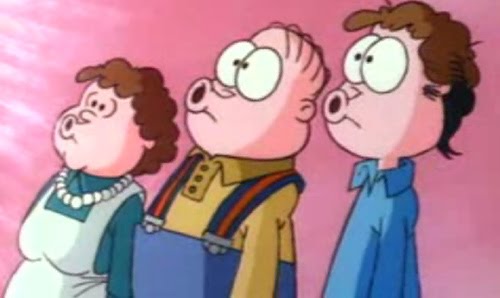 Even Garfield haters have to admit this is one of the best holiday specials ever made. Genuinely funny and heartwarming at times! Catchy songs, too!
"The Year Without A Santa Claus" (1974)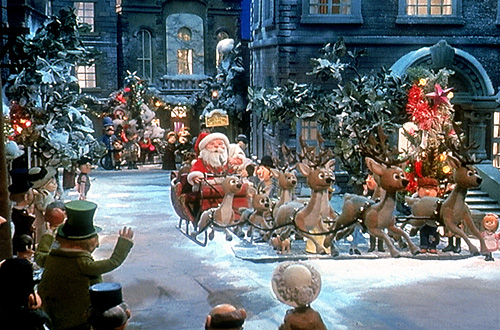 Rankin/Bass stop motion classic. It gets slow in some parts, but I consider this one worth watching. Great Dixieland setting and music, plus cult favorite characters like Heat Miser and Snow Miser. Their theme song will get stuck in your head for the rest of your life and you will not mind in the slightest.
"A Chipmunk Christmas" (1981)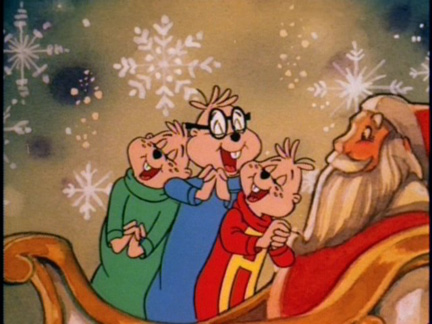 Animated by Chuck Jones! This is the classic Chipmunks cartoon that centers around Alvin's harmonica. Surprisingly good even if you think you hate Alvin and the Chipmunks. The backgrounds are drop dead gorgeous watercolor paintings that I would kill to own.
"Jim Henson's The Christmas Toy" 1986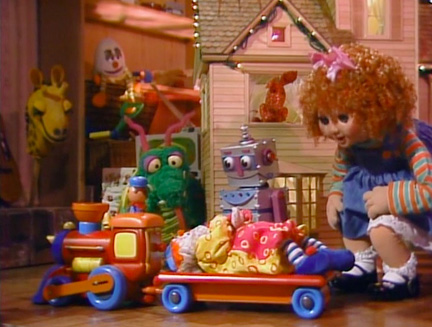 Basically the same exact plot of Pixar's Toy Story, except produced many years earlier and much more serious consequences! If a toy is caught moving from their spot they will be frozen forever! There is a serious death scene that is quite grim. Production wise, this is similar to Emmet Otter's Jugband Christmas in the creation of fully imagined, self-contained word with great puppets and effects. I've hung on to my VHS copy because it has an introduction by Kermit the Frog that's deleted from current versions (because of copyright issues).
"Twas the Night Before Christmas" (1974)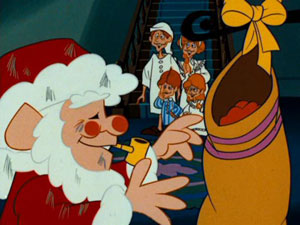 Rankin/Bass 2D special featuring those instantly recognizable character designs by Paul Coker, Jr. A faith vs. science plotline starring mice, and songs that will get stuck in your head forever! Over the years my fondness for this one has really grown.
BETTER THAN YOU MIGHT EXPECT CHRISTMAS SPECIALS:
"Olive the Other Reindeer" (1999)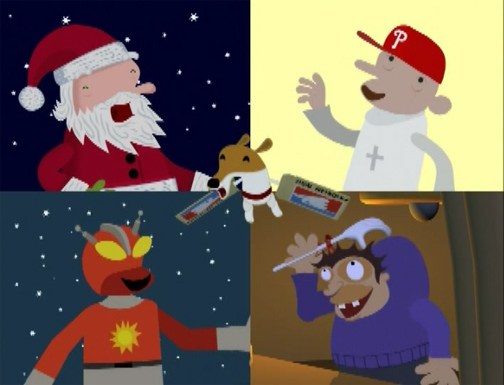 Based on the tongue-in-cheek children's book by J. Otto Seibold and produced by Matt Groening. Even people who hate Drew Barrymore are won over by the charm and comedy in this special. Great cameo by Michael Stipe.
"Mickey's Twice Upon a Christmas" (2004)


CGI Disney cartoon shorts that are actually nowhere near as bad as you'd expect; in fact it's pretty decent. I particularly love the chapter about Donald being sick of Christmas and just trying to get a warm cup of cocoa.
"Hello Kitty & Friends Holiday Magic"
As adorable as you'd expect it to be, but also surprisingly captivating and well animated. It's actually kind of serious and scary at times. The kids at school try to convince Kitty and her sister that Santa Claus doesn't exist. And they get lost in the forest trying to prove them wrong. Sadly this special is hard to track down.
Jingle All The Way (2011)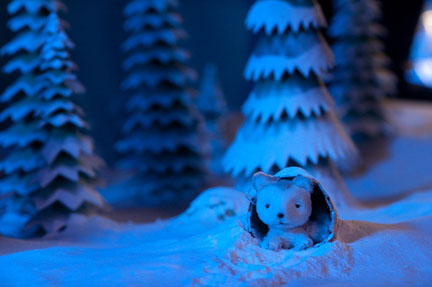 Beautiful stop motion production that looks amazing in HD. Based on a storybook/toy combo produced by Hallmark about a little puppy wandering around looking for a home. This thing is pretty freakin' adorable.
"I Want a Dog for Christmas, Charlie Brown" (2003)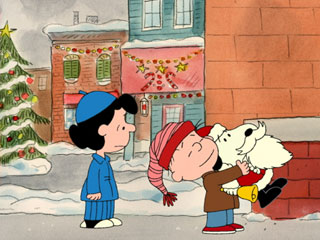 The third in the trilogy of Peanuts Christmas specials. I have a fondness for this one because it stars Linus and Lucy's younger brother, Rerun, who really reinvigorated the strip in the late 90s. As a result, I think this is the funniest of the later Peanuts specials, and also touching, because what's sadder than a kid who's not allowed to have a dog?
HOLIDAY SPECIALS ALSO WORTH CONSIDERING:
"Ziggy's Gift" (1982)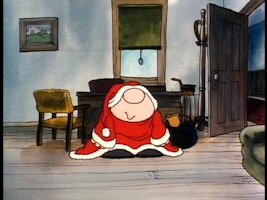 Strange little (mostly silent) cartoon animated by Richard Williams of "Who Framed Roger Rabbit?" fame. Super moody at atmospheric.
"Robbie the Reindeer: Hooves of Fire" (1999)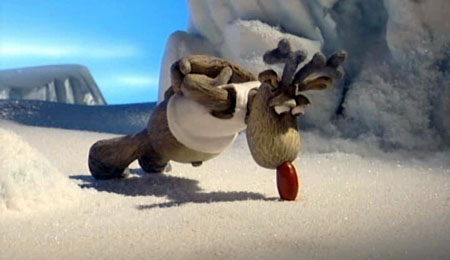 Funny British stop motion special from Aardman Animation (Wallace and Gromit) about the son of Rudolph.
"Opus N' Bill in: A Wish for Wings That Work" (1991)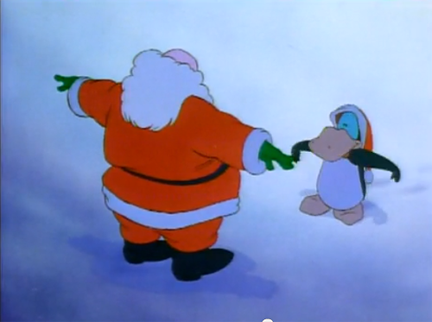 Strange little cartoon featuring characters from the popular comic strip, Bloom County. Remember when every comic strip got its own cartoon special?
"The Bear" (1998)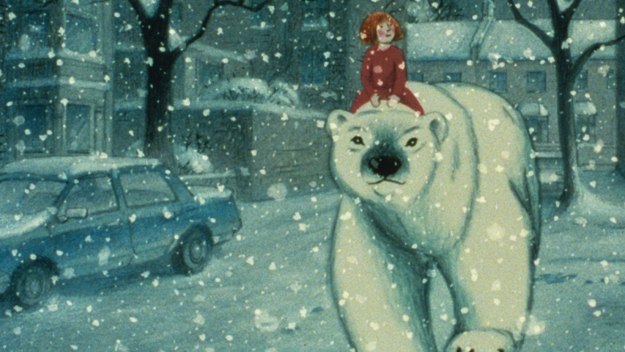 Yet another Raymond Briggs colored pencil adaptation. The plot is strangely similar to The Snowman, except it's about a young girl and a Polar Bear (a la the Golden Compass).
"Will Vinton's Claymation Christmas" (1987)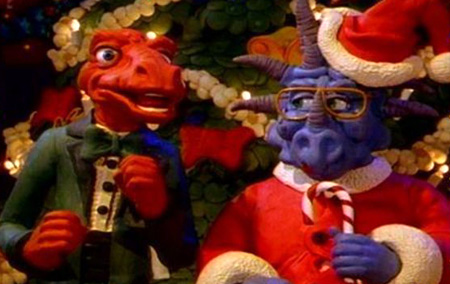 Various clay animated music videos hosted by dinosaurs in tuxedos. Lots of banter about the lyrics and history of specific Christmas carols. Features a musical number by the California Raisins, who get star billing.
PARTICULARLY GOOD HOLIDAY-THEMED EPISODES OF CARTOON SHOWS:
"Hey Arnold Christmas"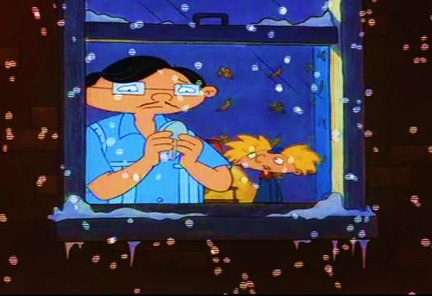 Surprisingly mature, holiday episode of the classic Nickelodeon Show. So heart-wrenching, it's guaranteed to make a grown man cry.
"The Simpsons Roasting on an Open Fire"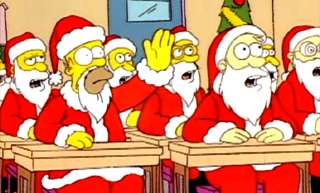 The first full-length episode of the show is still pretty great.
"Powerpuff Girls: Twas the Fight Before Christmas"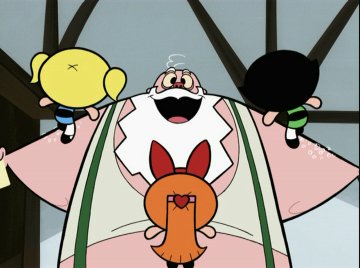 A really solid (if perhaps a bit long) Christmas-themed episode of the show. Great action sequences and a fairly disturbing Santa finale.
"Creature Comforts: Merry Christmas Everybody"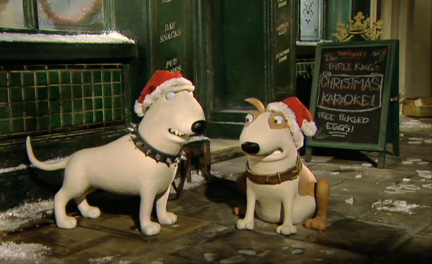 Claymation rendition of the 12 Days of Christmas song with cheeky commentary by Aardman Animation. Almost makes that song tolerable!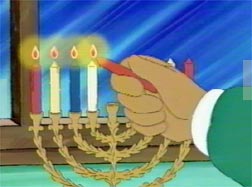 "Arthur's Perfect Christmas"
Charming and often funny holiday special based on the popular PBS cartoon series. Lotsa multi-ethnic animals.
"Kipper: Let it Snow"
Gentle cartoon about dogs with British accents playing in the snow and carrying on. Pretty darn cute.
"The Koala Brothers: Outback Christmas"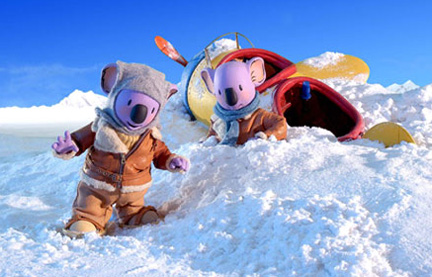 Adorable stop motion cartoon for the pre-school market. Kind of slow in parts (it is for pre-school kids) but never short on the cuteness.
"The Real Ghostbusters: X Marks the Spot"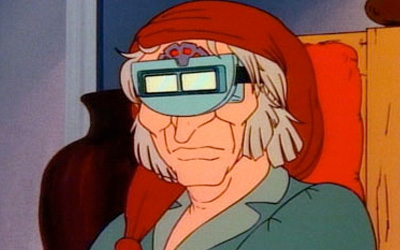 What if the Ghostbusters were hired by Scrooge to catch those pesky ghost trying to teach him a lesson?
"Back to the Future: Dickens of a Christmas"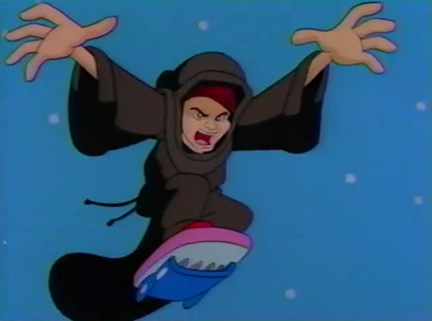 Yet another sci-fi twist on A Christmas Carol. I didn't really watch this cartoon growing up, but found it rather enjoyable based on this stand alone episode.
"The Tick Loves Santa"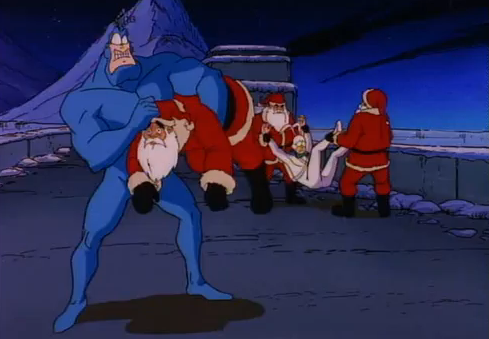 Great combo of craziness and sincerity as only the Tick could bring.
ALSO OF NOTE:
Phineas and Ferb: A Very Perry Christmas
FAVORITE HOLIDAY FULL-LENGTH FEATURE FILMS:
"Arthur Christmas" (2011)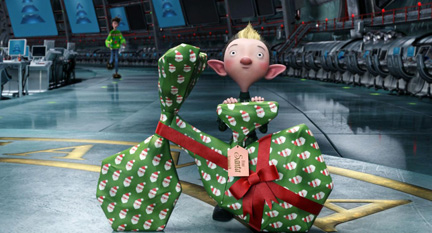 A CGI feature produced by Aardan Animation (Wallace & Gromit) that is not only a perfect Christmas movie, but also just a really fantastic film in its own right. Funnier than you may expect, action-packed, and filled with great characters and scenes that really pull on the heartstrings. Go out and grab a copy of this. It's worth owning!
"Scrooged" (1988)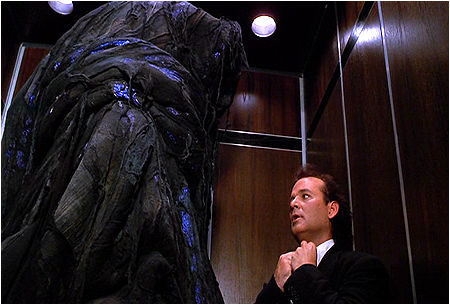 As a huge fan of Dicken's original, I've always been impressed by how faithful and clever this modern update is.
"Christmas in Connecticut" (1945)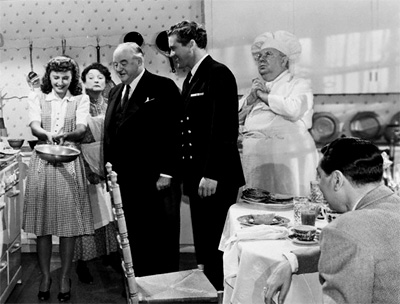 A fun, slapstick romantic comedy starring Barbara Stanwick as a NYC magazine writer pretending to be a Martha Stuart type who is forced to borrow a house so she can play host to an assortment of important dinner guests. Mayhem & misguided pancake flipping ensues.
"Miracle on 34th Street" (1947)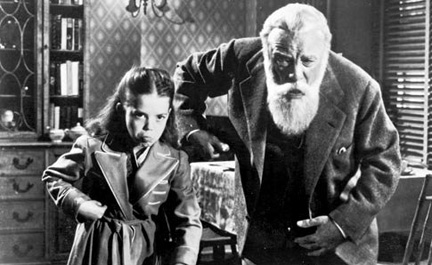 I'm a sap for this all time classic is-he-or-is-he-not-really-Santa Claus story. I want to believe!
"White Christmas" & "Holiday Inn"
Two Bing Crosby classics that I alternate between every couple of years. Each have their great moments and their faults (in Holiday Inn's case, a cringe-inducing minstrel number).
"The Muppets Christmas Carol" (1992)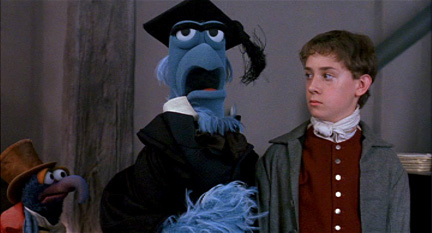 It took me a while to warm up to this one, but over the years I've come to really enjoy it. If you can handle yet another rendition of A Christmas Carol, there's a lot of great moments and humor to be found.
"March of the Wooden Soldiers" (1934)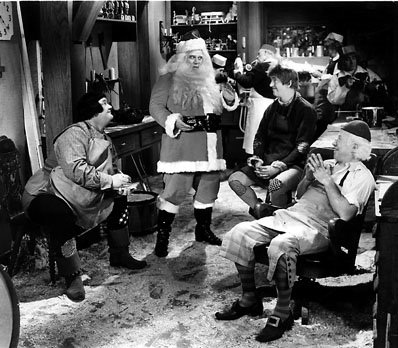 The original holiday movie!
Nightmare Before Christmas (1993)



Sort of the perfect hybrid of a Christmas & Halloween movie. The scene of Jack trying to decode Christmas is one of my favorite musical numbers ever and his enthusiasm and passion for the holiday rings super sincere and drives the film.
FAVORITE MOVIES THAT TAKE PLACE AT CHRISTMAS
"Home Alone"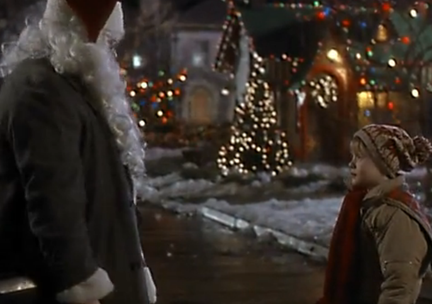 Why it's not a full-on Christmas Movie: the glorification of violence. At a certain point it goes beyond Kevin defending his home, and reveling in the torture of the crooks. The film does straddle the line, by hinting at magical wish fulfillment & divine intervention being involved in the set up.
"Die Hard"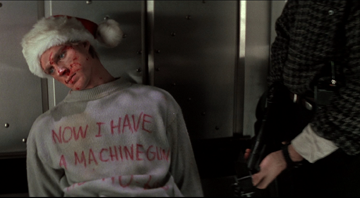 Why it's not a full-on Christmas Movie: The focus is realism & how naivety can be exploited by the super intelligent (which is very anti-Christmas). By my definition Die Hard would need to imply John McClane had divine intervention/magical assistance to overcome, rather than street smarts. Also pivotal scene involves a cop learning to get his groove back by killing.
"Gremlins"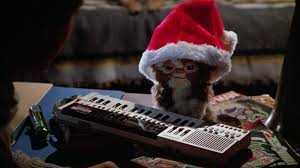 Why it's not a full-on Christmas Movie: Theme seems to be people can't be trusted & horrible things can happen even on the most sacred of days. A lot of the film you are rooting for said horrible things to happen, which is not in the true spirit of Christmas!
"Edward Scissorhands"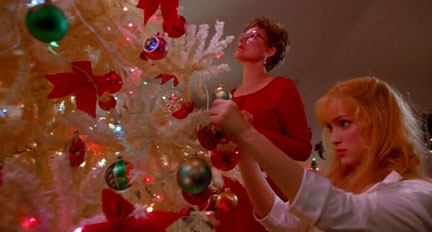 Why it's not a full-on Christmas Movie: Well it is about the creation of snow, and is clearly magic…so maybe it is?
"Batman Returns"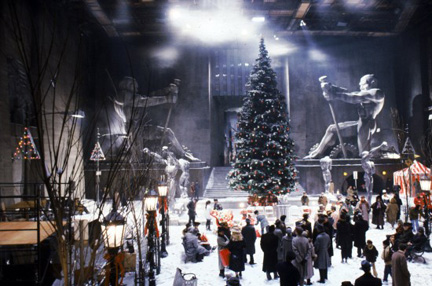 Why it's not a full-on Christmas Movie: Batman's reliance on gadgets rather than magic.

CHRISTMAS CARTOON SHORTS
Mickey Mouse Plays Santa

Pluto's Christmas Tree

**More List to come!
CRAZY, CRAZY, CRAZY HOLIDAY THINGS YOU'VE BEEN WARNED ABOUT:
"Itsudatte-My Santa!"
Sexy (and sexist) anime Christmas special with lots of "fan service," as would be expected by the creator of Negima!
"Gumby Christmas Shorts"
Old cartoon clay-animated shorts from the 60′s that are pretty mind-blowingly insane.
"Cabbage Patch Kids: Vernon's Christmas"
Creepy stop motion special that seems to mystify and befuddle all who watch it. It takes place in a world where adults do not exist.
"The Raccoons Christmas"
Featuring those Canadian cartoon stars of the 80s that you don't remember until you see them again.
"My Little Pony: A Very Minty Christmas"
Pre-Friendship is Magic. Talking and singing ponies in their own world where socks are religious objects.
"Christmas Comes to Pacland"
"The Star Trek Holiday Special" (just to see if you are paying attention)
NOTES:
This document is still a work in progress. I plan to add and update.
This is just some of my most favorite & recommended stuff. My complete list of everything I owe/watch/enjoy would be epic and include a ton of dubious quality stuff. I also didn't recommend a lot of the more subversive christmas TV episodes like Invader Zim, South Park etc. Even though I love (and own) most of those, I wanted to keep this list true the sincere spirit of Christmas rather than spotlighting the overtly cynical stuff (which again, I do enjoy).
FOR MORE CARTOON FUN:
Check out my Timeline of Rankin/Bass special continuity!