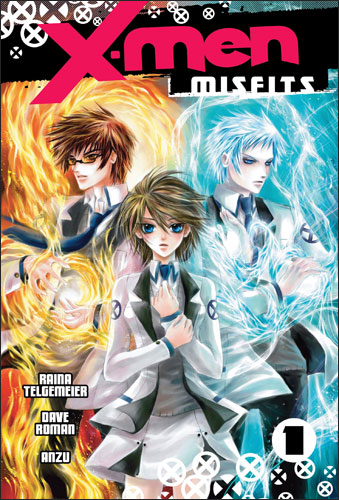 Written by Dave Roman
 and Raina Telgemeier. Illustrated by Anzu.
THE X-MEN GET A RADICAL NEW REMIX IN A STORY ABOUT TEEN ANGST, FIRST LOVE, AND WHAT IT'S LIKE TO BE ON THE OUTSIDE LOOKING IN.
High school student Kitty Pryde has always been the odd girl out. A mutant, she was born with strange superpowers, magical talents that make her the class freak. But Kitty's world is changed when she's invited to study at Professor Xavier's School for Gifted Youngsters, a special home for mutant teens. There's just one catch: Kitty's the only girl at the all-boy school, and she ends up just feeling like a freak all over again.
Then Kitty meets Pyro and the ultra-hot bad boys of the Hellfire Club. They're the school's elite–handsome, rich, and totally above the rules. Now Kitty seems to have it all: a dreamy boyfriend, super-cool friends, and the chance to develop her extraordinary talents. But why is her heart telling her that something is wrong? Will Kitty ever find the place where she belongs, or is she doomed to be a misfit forever?
Published by Del Rey Manga, August 2009
Ages 13 & Up.
176 pages
ISBN: 978-0345505149
Available from:
Available from:
****
Or, order from your favorite local comic shop!
 Visit comicshoplocator.com or call 1-888-COMIC-BOOK
PRAISE FOR X-MEN: MISFITS
New York Times Graphic Books Bestseller!
Texas Maverick Graphic Novel List!
YALSA Great Graphic Novels for Teens!
Reviews
"Works without a hitch…Telgemeier and Roman deliver a delightful script that will appeal to old fans while being friendly toward new readers or fans of the X-Men films."
—  Publishers Weekly
"A surprisingly refreshing take on a franchise that has been passed on from writer to writer for decades."
— Graphic Novel Reporter
"I'm just going to go ahead and say it: I think X-Men: Misfits is the single best X-Men story I've experienced since Grant Morrison brought his run on New X-Men to a close…The fan of manga in me absolutely loved it, and the fan of Marvel Comics in me loved seeing this particular wheel reinvented in such an unusual way."
— Newsarama.com
"Conventional thinking might not pair the crime-fighting superpower mutant crew with shoujo manga, but X-Men: Misfits does a fantastic job…[the] perfect combination of fire and ice."
— Pittsburgh Tribune-Review

---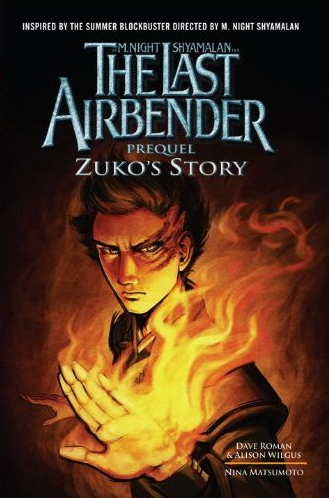 The Last Airbender: Zuko's Story
Written by Dave Roman and Alison Wilgus. Illustrated by Nina Matsumoto.
Prince Zuko is banished from the Fire Nation by his own father, Fire Lord Ozai. Horribly scarred and stripped of everything he holds dear, Zuko wanders the earth for almost three years in search of his only chance at redemption: the Avatar, a mystical being who once kept the four nations in balance. All around him, people whisper that this is an impossible task—the Avatar, after all, disappeared a century ago—but Zuko defiantly continues the search. His quest is all he has left.
Published by Del Rey, May 2010
144 pages
ISBN: 978-0345518545
Available from:
****
Or, order from your favorite local comic shop!
Visit comicshoplocator.com or call 1-888-COMIC-BOOK
Praise for Zuko's Story
2011 About.com Manga Reader's Choice Awards: Best New International Manga
Reviews
"…Can also work as a nice companion to the animated series… it's a great bonus for fans, giving a bit more insight into Zuko's past."
-Comicsgirl.com
"Engaging…clever…as much like a prequel to the original TV series itself as it is a prequel to the live action film. This is easily required reading for anyone that is a loyal Avatar: The Last Airbender fan!"
-Examiner.com
---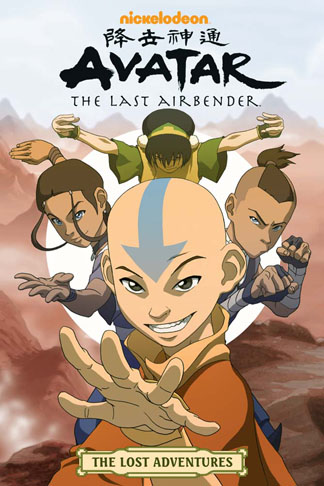 Avatar: The Last Airbender: The Lost Adventures
Edited by Dave Roman, Chris Duffy, Andrew Brisman, & Samantha Robertson.
For three years, millions of eager fans tuned in each week to watch Nickelodeon's hit animated series, Avatar: The Last Airbender. Ever since, fans have been hungry for more – and now their wait is finally over! This volume collects the long-out-of-print, fan-favorite comics previously published in Nickelodeon Magazine and with the Airbender DVDs, plus over 70 brand-new comics pages. That's over 26 stories set in Airbender continuity, by a host of top-notch talent, many of whom worked on the original animated series itself.
Published by Dark Horse Comics, May 2011
240 pages
ISBN: 978-1595827487
Available from:
****
Or, order from your favorite local comic shop!
Visit comicshoplocator.com or call 1-888-COMIC-BOOK
Praise for The Lost Adventures
"Everyone here was obviously passionate about Avatar: The Last Airbender and the consistency of the art and writing is amazing. So really: Do you like Avatar: The Last Airbender? (If you don't, why not?) Do you like comics? (If not, why are you here?) If the answer is "yes" to both of those, why don't you have this already?"
-Comicsgirl.com
"Like the show, some of the stories are remarkably poignant, and appeal well beyond its target demographic of young boys."
-ComicVine.com
---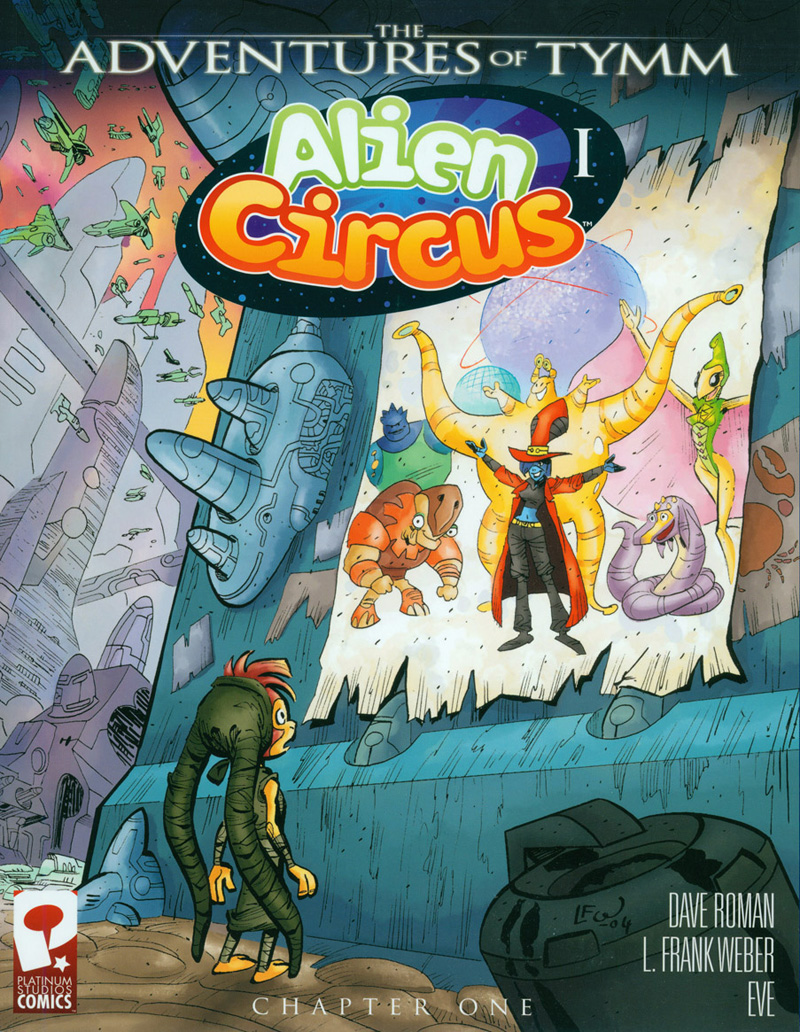 Adventures of Tymm: Alien Circus
Written by Dave Roman. Illustrated by L. Frank Weber. Colors by Stu Chaifetz.
Tymm, an orphan raised in an alien circus, discovers that he is the rightful heir to an intergalactic kingdom.
Published as 3 volumes by Platinum Studios, 2008
Currently out of print! Read it online here:
http://www.drunkduck.com/Alien_Circus/
or
http://www.wowio.com/users/product.asp?BookId=5095