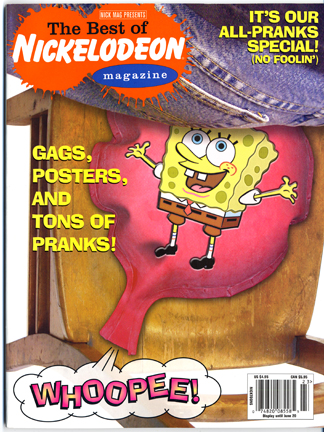 I was an editor at Nickelodeon Magazine for 11 years, working alongside Chris Duffy, Laura Galen and a team of amazing editors and designers to produce the best kids' magazine imaginable!
Nickelodeon Magazine ran for 159 issues from 1993 to 2009, and published more than 1,300 pages of comics over the course of its run. The list of contributors is a shockingly impressive "Who's Who" of innovative and critically acclaimed creators that would knock the socks off of any fan of the form. Kim Deitch, Sam Henderson, Dave Cooper, Jason Lutes, Michael Kupperman, Kaz, Mark Newgarden, David Mazzuchelli, James Kochalka, Evan Dorkin, Bob Sikoryak, Mark Martin, Brian Ralph, Jason Shiga, Johnny Ryan, and Craig Thompson are just a sampling of the talent that created original strips and/or illustrated covers for the Comic Book section.
ORIGINAL COMICS & COVERS
People were often surprised and delighted to discover that a magazine called Nickelodeon had so much creator-owned content. Over the years, the magazine published some of the most creative works by cartoonists from all around the world! Here's a few that I helped edit and assign.
Covers:

Comics:

NICKTOONS COMICS
The magazine approached Nicktoons comics with admiration for the TV shows, and a passion for making them work equally well on the comics page. Here are few that I edited.
ARTICLES AND HUMOR
By and large, Nickelodeon Magazine was all about humor and parody articles. Here are a few that I contributed to or edited.
MOVIE MAGAZINES
We produced movie magazines for several Nickelodeon/Paramount movies including Rugrats in Paris, The Wild Thorberrys, Rugrats Go Wild, The SpongeBob SquarePants movie and Lemony Snicket's A Series of Unfortunate Events. I was a huge fan of the Lemony Snicket book series so it was a lot of fun editing a comic book adaptation! Samuel Hiti drew the main story and Jay Stephens, Mark Crilley and Brett Helquist also contributed art to the magazine.
CAMEO APPEARANCES
Many staff members at Nickelodeon Magazine made cameos from time to time.
BOOKS
Here are books that collect content originally published in Nickelodeon Magazine. Sadly, some are out of print, so you may need to search for them through re-sellers.
Avatar: The Last Airbender –The Lost Adventures
ISBN-13: 978-1595827487


SpongeBob SquarePants –Comic Crazy
ISBN-13: 978-1416983439


SpongeBob SquarePants –Comic Crazy Take 2
ISBN-13: 978-1442401754


Rugrats: It's a Jungle Gym Out There
ISBN-13: 978-0740746673


A Baby's Work is Never Done: A Rugrats Comic Strip Collection
ISBN-13: 978-0740754494


Praise for Nickelodeon Magazine
Harvey Award Nominee for Best Comics Anthology
"The passing of Nick Mag is a genuine loss for kids. It was one of the most consistently quality products (in any medium) for young people. It did die once before, in the early 1990s, but it came back. I hope that one day soon, it can pull that off again."
                  -Marc Tyler Nobleman