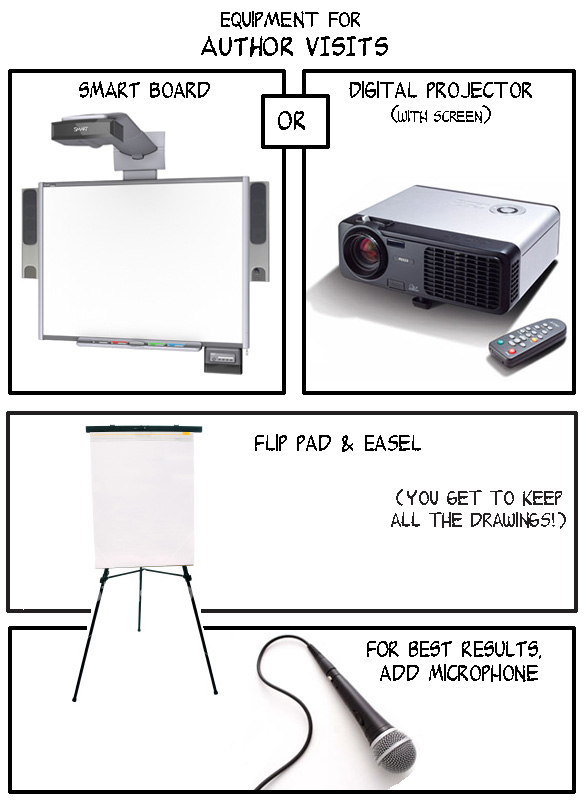 SUPPLIES Checklist::
-Prep. A little goes a long way toward helping make the author visit a success. Share the Intro to Dave. If you have any of his books in your school or classroom library let the kids know in advance of the visit.
-Digital projector with HDMI computer cables OR ability to connect to Smartboard and project a Powerpoint presentation.
-Please confirm one of the following:
1. You have your own laptop setup and Dave only needs to bring his presentation on a USB thumb drive.
2. Dave should bring his own Mac laptop with dongle converter.
Dave generally brings his own USB clicker. But if you have your own, that's cool too.
-Paper flip chart drawing pad and markers (this is preferable to a dry-erase board so any drawings created can be given to the school to keep)
-A microphone/amplification system is appreciated for any class larger than 25 students. Doctors orders! Especially if it's in an auditorium, multi-purpose room, gym etc.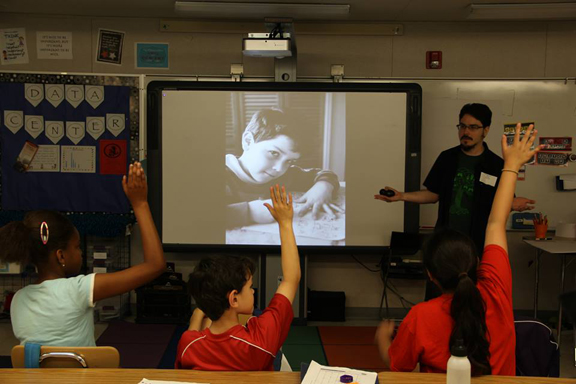 PRESENTATION SUMMARY:
Each 45-minute presentation includes slideshow visuals, live drawing demonstration, and time for Q&A.
Dave Roman (Astronaut Academy, Goosebumps Graphix) will deliver a lively, visual discussion on comics, and how they've served as inspiration throughout his life, fostering a love for reading and a passion for making his own books. He will share insight into working at Nickelodeon Magazine, where he developed comics based on popular TV characters like SpongeBob Squarepants and Avatar: The Last Airbender. Using humor and personal anecdotes, Dave will discuss his writing process, drawing tools, techniques, and the life of a cartoonist.
From brainstorming ideas, to writing and revising, art supplies and techniques, Dave invites people of all ages into the world of cartooning. Showing how he went from self–publishing black & white handmade minicomics to full–color graphic novels sold in bookstores, Dave will demystify the publishing process and inspire everyone to create their own visual stories!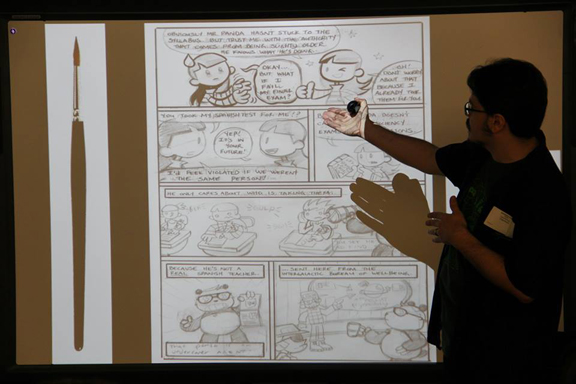 Dave uses visual examples to walk kids through the stages of making a graphic novel.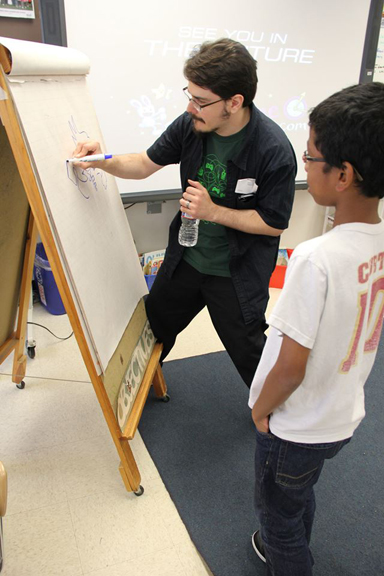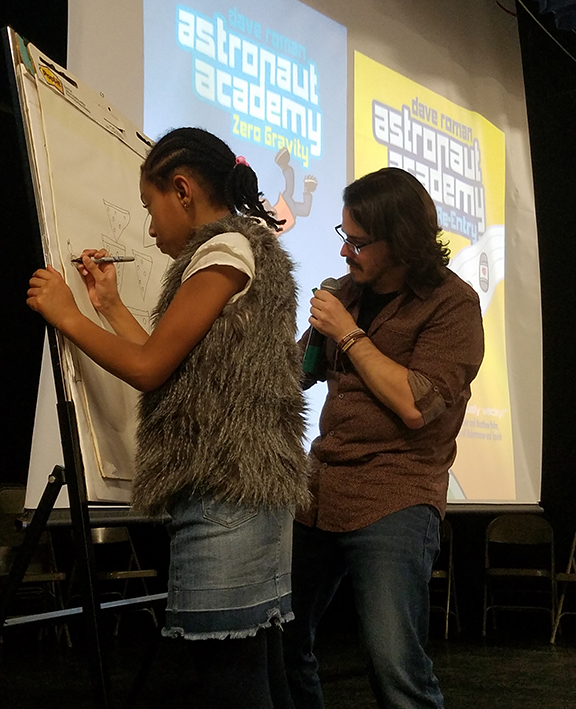 Kids are encouraged to draw alongside him as equals!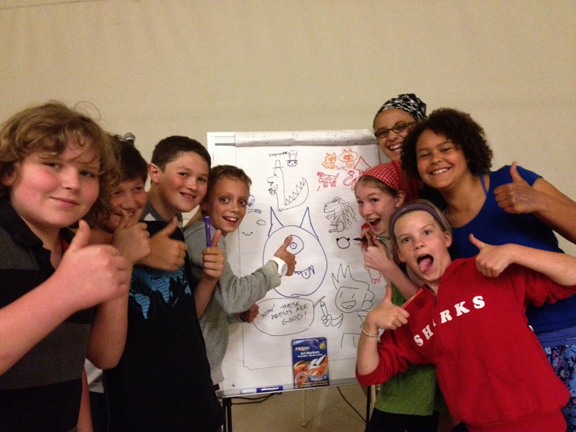 Even if kids don't consider themselves artists, they can still have fun and be creative!

Dave will happily sign & sketch in all copies for the students.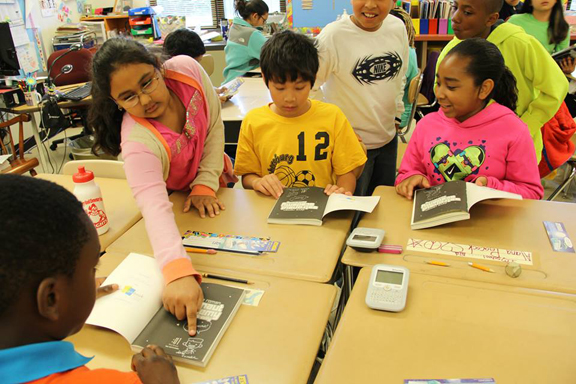 If there's time, every kid will get a different character drawn in each of their books!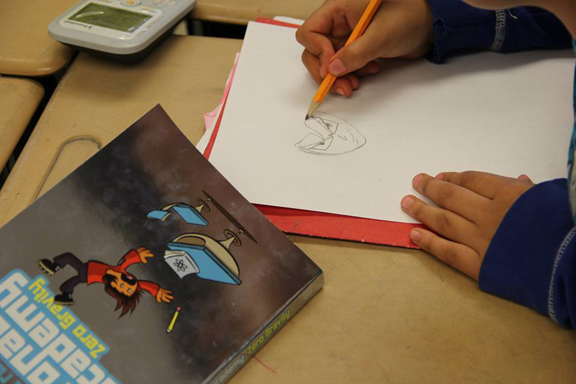 Many kids will be inspired to start writing and drawing their own graphic novels, knowing all it takes is a paper and pencil to get started!
PRESENTATION THEMES:
- Finding your passion! Being successful takes a lot of work, but it's a lot less so if you are working at something you love.
-Developing your voice! Each artist or writer has look within themselves and learn what separates them from the crowd. It's not just about being the best. A true artist's work has to be true to themselves if it's to be seen as truly unique.
-The power of collaboration! Combining words and pictures is at the heart of graphic novels. Many comics are created by writers and artists teaming up to produce something new, benefiting from the strengths of each.
-Expanding our minds! Reading outside of your comfort zone and being prepared for the twists and turns down the road.
-Supporting your friends and fellow artists! We're all in this together!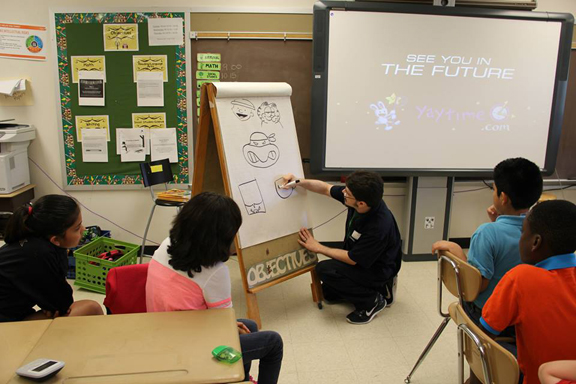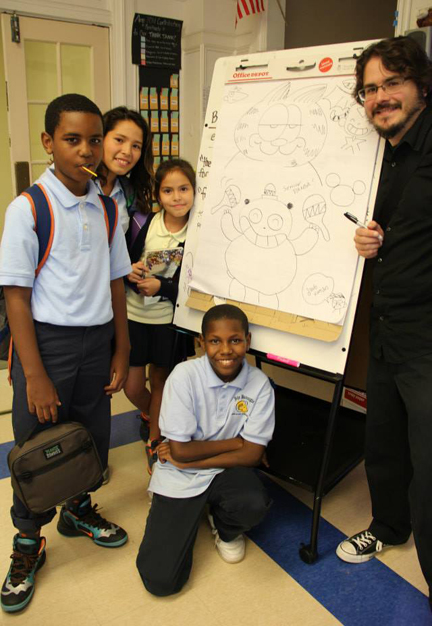 PREPARATION:
Even though his presentation will showcase Dave's books, the more familiar kids are with the works in advance, the richer the overall experience will be. If your school library has copies of his graphic novels, be sure to display them before the author visit.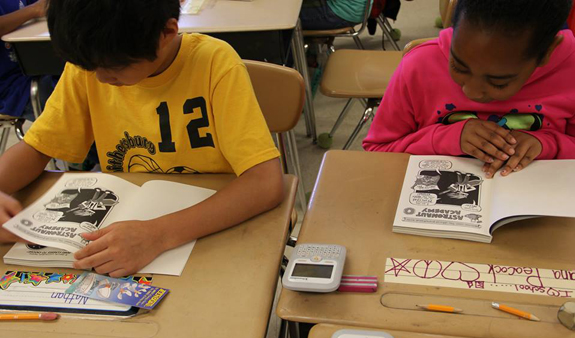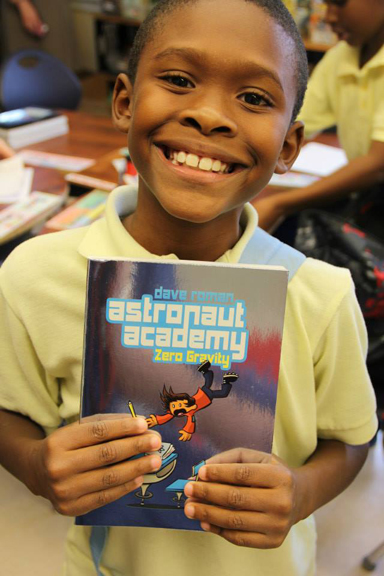 VIDEO SAMPLE:
Dave presenting at the Gaithersburg Book Festival.
RESOURCES:
LIST OF DAVE'S BOOKS

Intro to Dave
TEACHER'S GUIDES
Astronaut Academy: Design Your Own Academy Kit [PDF]
ORDERING BOOKS:
Dave's books are available through most major book distributors.
Partnering with local bookstores to handle booksales is always a great idea! Supporting community bookstores helps everyone!
To order books directly from the publisher, see info below. Have each ISBN and corresponding full book title, along with address (including zip code), date, name, and telephone number of the person placing the order. Make sure to mention that you are ordering books for an author visit.
Astronaut Academy by Dave Roman is published by First Second books an imprint of Macmillan.
For group sales please contact:
customerservice@mpsvirginia.com or 888.330.8477
Astronaut Academy: Zero Gravity [Book1] 978-1250225894
Astronaut Academy: Re-Entry [Book 2] 978-1250225931
Astronaut Academy: Splashdown [Book 3] 978-1250216861
(These three books should all be the newer color editions. There are older black and white versions still circulating).
There is a modifiable template to help make book orders even easier. Download at: http://yaytime.com/authorvisits/forms/
Go back to …MAIN AUTHOR VISITS PAGE
Thanks to Lucia Saperstein from An Open Book Literacy Foundation for taking some of the photos on this page!