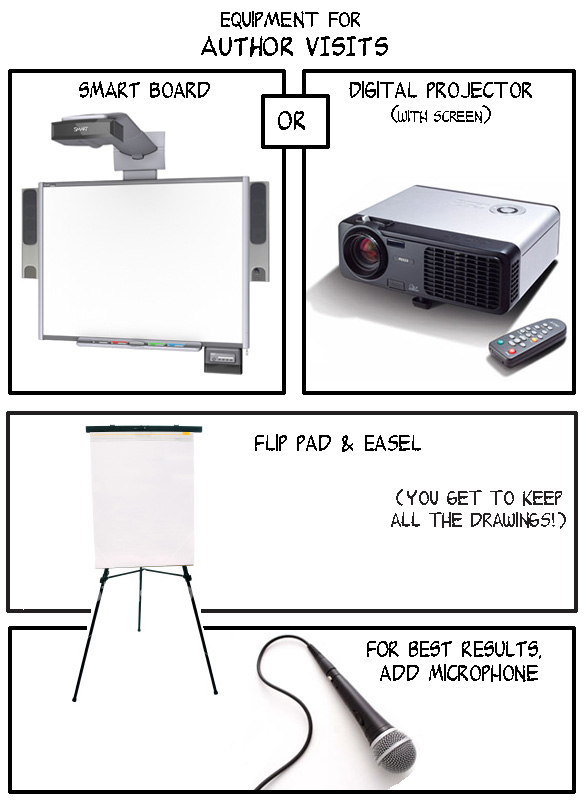 SUPPLIES::
-Digital projector with VGA computer cables OR ability to connect to Smartboard and project a Powerpoint presentation.
-Dave can bring his own Mac laptop with dongle converter OR if it's easier just bring his presentation on a portable thumb drive and run it off a school computer.
*Please confirm in advance.
-Flip chart drawing pad and markers (any drawings created will be given to the school or library), OR a dry erase board and markers (drawings will be erased).
-A microphone/amplification system is appreciated for any class larger than 20 students.
SUMMARY:
Dave Roman (Astronaut Academy, Teen Boat!) will deliver a lively, visual discussion on comics, and how reading them as a kid served as inspiration throughout his life, fostering a love for reading and a passion to make his own book. He will share insight into working at Nickelodeon Magazine, where he developed comics based on popular TV characters like SpongeBob Squarepants and Avatar: The Last Airbender. Using humor and personal anecdotes, Dave will discuss his writing process, drawing tools, techniques, and the life of a cartoonist.
From brainstorming ideas, to writing and revising, art supplies and techniques, Dave invites people of all ages into the world of cartooning. Showing how he went from self–publishing black and white handmade minicomics to full–color graphic novels sold in bookstores, Dave will demystify the publishing process and inspire everyone to create their own visual stories! Each presentation includes slideshow visuals, live drawing demonstration, and time for Q&A.
Some of the themes included in Dave's talks include:
- Finding your voice. Each artist has to find what makes them unique.
-The power of collaboration. Combining words and pictures is at the heart of graphic novels. Many comics are created by writers and artists teaming up to produce something new, benefiting from the strengths of each.
-Being ready for twists and turns in the road that will eventually create opportunities for success. There's no one path to follow. You just have to work hard, and create work that really matters to you!
PREPARATION:
Even though Dave's presentation will showcase Dave's books, the more familiar kids are with the works in advance, the richer the overall experience will be. If your school library has copies of his graphic novels, be sure to display them before the author visit.
BOOK ORDERS:
Dave's books are available through the publishers at a special discount for author visits. He will happily sign & sketch in all copies for the students.
There is a modifiable template to help make book orders even easier ready to download at: http://yaytime.com/authorvisits/forms/