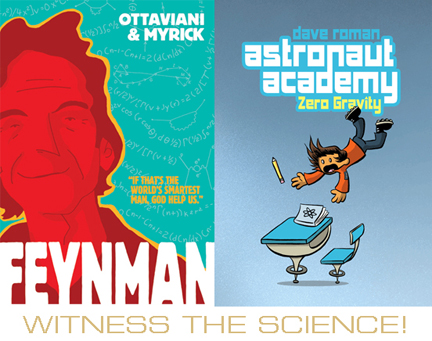 October 3rd at 6:30 PM, Dave Roman and Jim Ottaviani perform at the World Newton Reading Series! Special ALL-COMIC-BOOK NIGHT of SCIENCE! In an extra-special AUDIO AND VISUAL PRESENTATION!
Arriving at The Way Station, Brooklyn's greatest Steam Punk and Doctor Who themed bar, will be New York Times bestselling DAVE ROMAN author of ASTRONAUT ACADEMY, a graphic novel about a SCHOOL in SPACE!
There will also be JIM OTTAVIANI writer of FEYNMAN, a graphic biography of RICHARD FEYNMAN the larger than life true story of the SMARTEST MAN ALIVE, a physicist who grew up in Queens, worked on the Manhattan Project at 23, won the Nobel Prize and wrote funny things about picking up girls. You must come to WITNESS THE SCIENCE!
October 3rd, 6:30PM at:
The Way Station
683 Washington Ave
btw prospect and st marks
A/ to Washington or 2/3 to BK Museum or Q to 7th Ave
B45 to Washington Ave and Prospect Place (stops right in front of bar)
*The Way Station has a TARDIS! Check out their website: http://waystationbk.blogspot.com/