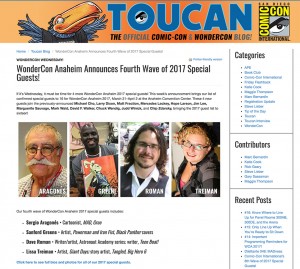 It's pretty exciting to be a guest at WonderCon this year! And I'm even bringing my mom along for the fun! You can find us in the Artist Alley and on a couple of panels!
March 31-April 2nd at the Anaheim Convention Center.
WonderCon returns to the Anaheim Convention Center the weekend of March 31 through April 2 (and it's NOT Easter weekend!). Join us for this amazing convention filled with all the things you love: comics, movies, TV, animation, books and authors, action figures and collectibles, the Masquerade, anime screenings, portfolio review and games!
FRIDAY March 31
3:00-4:00 Comics Drawing Party with Dave Roman & his Mom!
Join author & illustrator Dave Roman (Astronaut Academy, Goosebumps, Teen Boat!) as he teams up with his mom, Miriam (who has never been to a comic convention and is scared to even draw a stick figure), and several audience members to make completely improvised comics. Expect lots of embarrassing stories, crazy characters, and hilarious twists and turns! Room 211
SUNDAY April 2nd
1:00p.m. – 2:00p.m. Capable Kids Age is no barrier to the intrepid adventurers in works by participants Judd Winick (Hilo), Hope Larson (Compass South), Tania del Rio (Warren the 13th and the Whispering Woods), Jonathan Stokes (Addison Cooke and the Treasure of the Incas), and Dave Roman (The Race for Boatlantis). Moderated by Judy Neeb, Children's Librarian, County of Los Angeles Public Library. Room 209