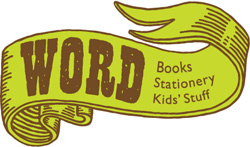 Raina and I will be participating in the Holiday Open House at WORD in Brooklyn.
Stop by for recommendations, donuts and hot chocolate, holiday movies, and more! Not sure what to get for your whole list? Not to worry — our staff can help. We'll also have authors on hand to help wrap presents, recommend books, and sign! All tips for wrapping will be donated to the Greenpoint Food Pantry, which hands out hundreds of bags of groceries each week.
Sunday's guest authors include: Jami Attenberg, Dave Roman, Jeff Salane, and Raina Telgemeier.
Sunday December 15th from 1:30-2:30pm
WORD
126 Franklin St,
Brooklyn, NY 11222