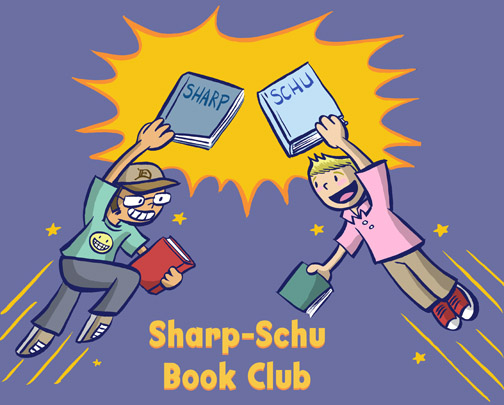 March 13th, from 8-9PM EST, Raina Telgemeier and I will be guests at the next

Sharp-Schu Book Club!
Hosted by
Colby Sharp
and
Mr. Schu
, role-models in literacy enthusiasm, their twitter book club is a fun chance to hang out with fellow book enthusiasts. The main topic will be our graphic novels
Smile,
Drama,
and
Astronaut Academy
, but we'll happily answer any and all questions you might have.
At 8PM: Just log in using your own twitter handle at TweetChat.com and enter the hashtag #SharpSchu to join the conversation or just read along in real time!
Here is the official schedule:
8:00-8:20 P.M. EST: Discuss Raina Telgemeier's SMILE
8:20-8:40 P.M. EST: Dave Roman's Astronaut Academy
8:40-9:00: Q and A with Dave Roman and Raina Telgemeier.
Hope to see you there on March 13th !