Here is where to find me at Comic Con International: San Diego from July 24th-27th.

Thursday July 24th
4pm: Kids' Heroes, Capes and Journeys: Does One Size Fit All? (Room 29A)
Graphic novel authors and educators discuss how kids' heroes have grown and changed over the years. Discussing "Hero" templates, they'll explore old and new hero favorites and whether a mold helps or hinders the development of future heroes. Panelists will then ask the audience to help create an SDCC 2014 hero as artist panelists draw/design/experiment with hero templates. Implications for fans, educators, students, and aspiring writers, and critics will be discussed. Panelist include Jennifer Holm (Babymouse, Squish), Matthew Holm (Babymouse, Squish),, Dave Roman (Astronaut Academy) , Frank Cammuso (The Misadventures of Salem Hyde), TedNaifeh (Courtney Crumrin) , Marc Tyler Nobleman (Boys of Steel: The Creators of Superman, Bill the Boy Wonder), and Alexis Fajardo (Kid Beowulf).
THURSDAY NIGHT OFF SITE EVENT: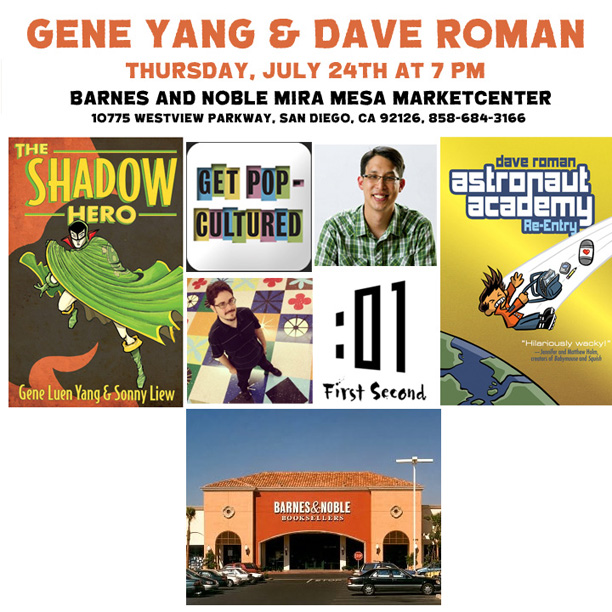 7pm: Dave Roman & Gene Yang presentation, live drawing & book signing
Barnes & Noble Mira Mesa
10775 Westview Parkway
San Diego, CA 92126
More info & store locator

Sunday July 27th
10am Kids Draw! Interactive panel. (Room 30CDE)
This fun-filled draw-off pits cartoonist against cartoonist as kids help tell the story-with Kelley Jones (Space Mountain), Dav Pilkey (Captain Underpants), Dave Roman(Astronaut Academy), Dan Santat (Comics Squad: Recess), and Kirk Scroggs (Snoop Troop) and as many monsters, aliens, princesses, and plot twists as they can fit into a single panel! Moderated by Matt and Jenni Holm (Babymouse, Squish).
11:30am Dave Roman signing all books at Sails Pavilion, AA09
12pm Dave Roman signing copies of Astronaut Academy at :01 First Second booth #1323
1pm – 2pm All-Ages Comics Have Arrived! (Room 24ABC)
Quality all-ages comics are back and better than ever! We're not just talking about "kids" comics, we're talking about amazing comics that can be enjoyed by young, old, and everyone in between. Join KaBOOM! editor Shannon Watters as she has a lively and fun conversation with several all-ages creators, including David Petersen (Mouse Guard), Dave Roman (Astronaut Academy: Zero Gravity), Gene Yang (American Born Chinese, Boxers and Saints), and Ian McGinty (Bravest Warriors, Adventure Time: Candy Capers).