I'll be at the Library Con hosted by the Fair Lawn Public Library on Sunday November 19th. Presenting at 2:30pm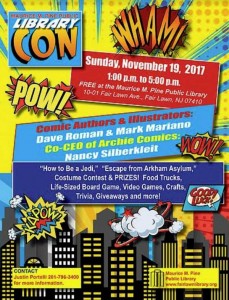 Official description:
Our five level building will don a mask and cape and transform into a celebration of all things SUPER on Sunday, November 19! This FREE event will feature comic artists and illustrators Dave Roman & Mark Mariano, Co-CEO of Archie Comics Nancy Silberkleit, food trucks, free comics, a costume contest with amazing prizes, video games, crafts for kids, How to be a Jedi, an Arkham Asylum escape room (for kids), seminars & panels on Anime, Marvel vs. DC, Super Hero Movies, Children's Publishing (featuring authors and a literary agent) and others! Check out our board games, Pokemon room and scavenger hunt, trivia, photo opportunities, costumed characters, and surprise giveaways all day long! This family-friendly event is for ALL AGES and we encourage you to dress up (family friendly costumes, please)!