When I was growing up, I used to look forward to winter vacation as a chance to get away from school work…and draw comics! And this winter was just like that, only instead of drawing comics based on my own silly ideas, I was hired to draw my very first comic based on a story written by someone else. And that someone else happens to be R.L. Stine, one of the most successful writers in the world!
So it's my honor to be adapting "Night of the Living Dummy" for the new comics anthology Goosebumps Graphix: Slappy's Tales of Horror! I even got to draw the super creepy cover!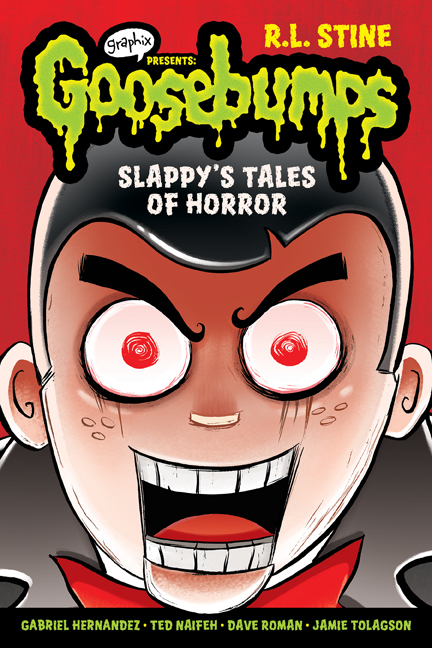 Here's the official book description:
Four Goosebumps Graphix tales by master of horror R. L. Stine are adapted into full-color comics and feature a brand-new Slappy story by bestselling author, Dave Roman.
The talented Dave Roman creates the horrifying drawings for "The Night of the Living Dummy," the origin story about that most evil of all ventriloquist dummies, Slappy!
In "A Shocker on Shock Street," Jamie Tolagson captures the chilling tale of a brother and sister doing their dream job: testing rides in a movie studio theme park, where the special effects are REALLY special.
With his shadowy illustrations, Gabriel Hernandez creates the perfect atmosphere in "The Werewolf of Fever Swamp," a spooky story about a boy and his dog who go sniffing around in a lonely swamp . . . and wish they hadn't.
Ted Naifeh is at his creepy best in "Ghost Beach," a scary ghost story about a brother and sister who investigate a local legend and discover a terrible secret about their family.
The book comes out in Fall 2015, just in time for Halloween. I'm still putting the finishing touches on the art in my story, but hope to share some process photos and cool sketches closer to the release date.
Be afraid! Be very afraid!