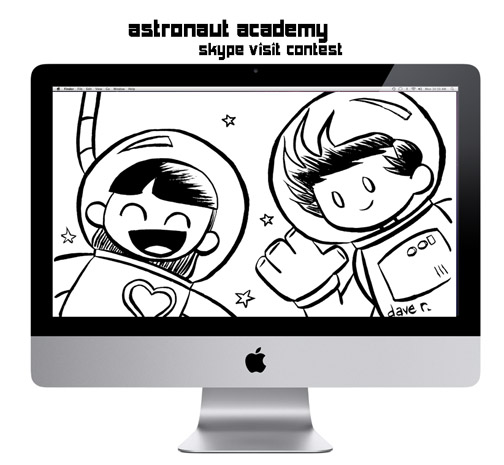 It's back to school season, and I'm celebrating with free bookmarks and a special Skype visit contest!
Any teachers or librarians who email me at yaytime (at) gmail (dot) com with a complete mailing address will be sent 30 free Astronaut Academy bookmarks!
ASTRONAUT ACADEMY VISIT SKYPE CONTEST
Schools or libraries can also enter to win a free 20-minute skype visit from me! I'll talk about writing, drawing, & making comics, answer questions, and even do a quick drawing (that I'll personalize and send to your school). I'll randomly choose 1 winner for each month from October 2012 to June 2013! Deadline for entries is the first of every month.
What do you need to do?
Email me with with your name + school/library name, grade level, and why you think your kids would love to chat with the author of Astronaut Academy. Simple, right? If your school/library gets chosen, I'll need to ask a bunch of technical questions, so ideally all schools should have some experience using Skype software.
The fine print: Ideally middle grade classes since they usually get the most of out my books & talks. Visits should be for single classes or groups no larger than 40 people.
Thanks and good luck!