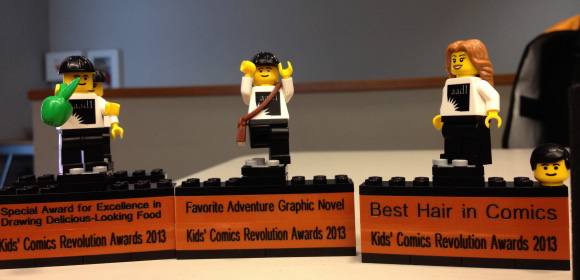 WATCH THE FULL 2015 AWARD SHOW:

WATCH THE FULL 2014 AWARD SHOW:
WATCH THE FULL 2013 AWARD SHOW:
The KCR! KIDS' COMICS AWARDS invites kids to pick their favorite graphic novels comic books, webcomics, and more!
Kids' Comics Revolution! hosts Dave Roman and Jerzy Drozd collaborated with editor Chris Duffy (Nickelodeon Magazine, Nursery Rhyme Comics, SpongeBob Comics) and the Ann Arbor District Library on the KCR! Kids Comics Awards to fill the void left by the Nick Magazine Comics Awards, which ran only one year before the popular kids' magazine ceased publication. Nominees were selected by a council of educators and retailers including Scott Robins. Sharon Iverson, Krystal Tabujara, Jennifer Vincent, Colby Sharp, John Schumacher, Melissa Wiley, Laura Given, Alyson Beecher, and Mary Ann Scheuer.
The KCR! Comics Awards offers kids the opportunity to share their enthusiasm for comics of various styles and format. Kids cast a vote for their favorite comics and characters across eight categories both serious and silly.
Diary of a Wimpy Kid author Jeff Kinney with his awards for Favorite Cartoonist/Author and Favorite Comic/Novel Hybrid.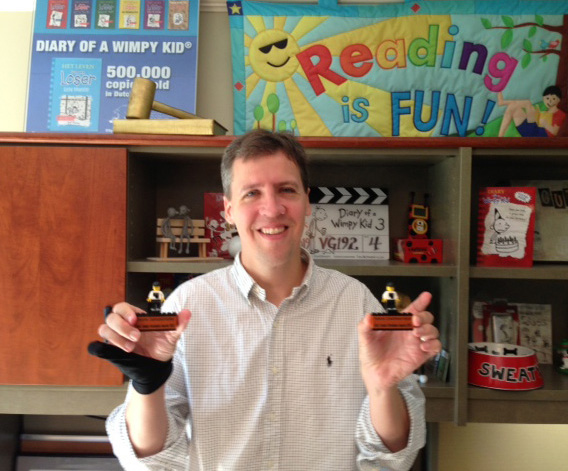 Awards for 2014 will be announced during a special ceremony at the Kids Read Comics festival at Ann Arbor District Library in Ann Arbor, Michigan.
Kids Comics Revolution! is a podcast hosted by Dave Roman and Jerzy Drozd featuring interviews authors, illustrators, retailers, librarians, teachers, and people from all aspects of the comics field. Every episode includes book talks from kids or educators, enthusing about the stories and art they love. Episodes can be downloaded via iTunes or streamed online at www.kidscomicsrevolution.com