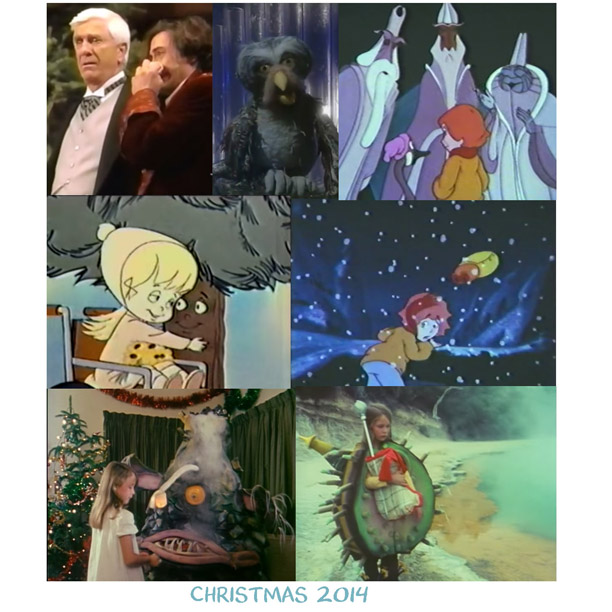 Over the past 12 years or so, it's been a hobby of mine to work my way through (no fast forwarding!) every single animated/puppet/talking dog holiday special ever produced. I'm sure all this knowledge will become useful to some alien visitors someday. Till then, I figured I'd share the weirdest things I discovered this year (so far).
Cosmic Christmas (1977, cell animated)
A human boy & his pet goose escort three aliens through a rough urban sprawl, to help them better understanding the concept of Christmas. I really love the 70s style, hand-drawn animation produced by Nelvana. And the alien designs are pretty cool! This one is definitely weird, but has enough charm and quality that I actually recommend it with full sincerity.

The Monsters Christmas (1981, live action)
A young girl in New Zealand who is well studied in monster lore, infiltrates a witch's cave to recover the lost voices of three monsters so they can sing a rendition of Silent Night. The pace is too slow to recommend watching it start to finish (though I certainly did!), but maybe skip around? Because there are some really neat things within: the friendly monster costumes are amazing in a Sid & Marty Kroft meets Power Rangers way, the New Zealand setting is pre-LOTR epic, and the golem-style creature (called a Nasty) will give you nightmares. Plus, the child actor looks like she honestly believes she is hanging out with monsters for real. Did I mention the witch likes to Jazzercize?

The Tiny Tree (1975, cell animated)
Directed by legendary animator Friz Freleng. A little girl in a wheelchair falls in love with an anthropomorphic pine tree. Seriously. There's also a lot of drama surrounding a vegetarian hawk and the local forest creatures, accompanied by super sincere songs.

Mr. Willowby's Christmas Tree (1995, live action w/puppets)
Directed by Sesame Street's Jon Stone. Featuring a performance by Robert Downey, Jr that is bizarre in a way that's really hard to describe. Leslie Nielsen plays his butler and Kermit the Frog serves as narrator. As a huge Muppets fan, I was at first in awe that I had somehow never seen or heard of this special before. But sadly, despite all the great people involved, it's mostly boring and too repetitive to recommend except as a curiosity piece.