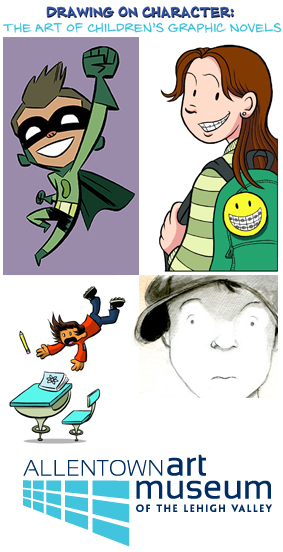 Fall Festival: Worlds of Wonder
Sunday, November 3
12-4pm
Allentown Art Museum
31 North 5th Street
Allentown, PA 18101
(610) 432-4333
NY Times bestselling authors Raina Telgemeier (Smile, Drama) and Dave Roman (Astronaut Academy, Last Airbender) will deliver a lively, visual discussion on comics & graphic novels, and how reading them as kids served as inspiration throughout their lives, fostering a love for reading and a passion to make their own books. They will share insight into working for companies like Nickelodeon, and Scholastic as well as what it's like being a full-time cartoonist. The presentations will include a visual slideshow, live drawing demonstration, Q&A, book signing & more!
Also appearing: Eric Wight (Frankie Pickle) and Matt Phelan (Storm in the Barn)!
Admission to the festival is free!!
This event is part of the museum exhibit "Drawing on Character: The Art of Children's Graphic Novels" a selection of original artworks by illustrators Eric Wight (Frankie Pickle, Simon and Schuster), Raina Telgemeier (Smile, Scholastic), Dave Roman (Astronaut Academy, First Second), and Matt Phelan (The Storm in the Barn, Candlewick) details the process of creating successful graphic novels, from pencil sketch to the finished page. The museum exhibit is on display till Sun, December 29th, 2013