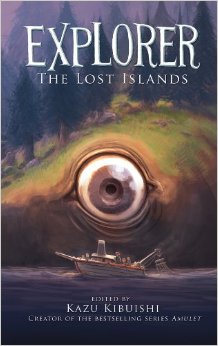 I'm super excited about the release of Explorer: The Lost Islands!
This book is beautiful! You have to see a copy of the hardcover in person! I wrote a 16-page story for this anthology called "Desert Island Playlist", which was illustrated by my wife Raina Telgemeier and colored by Braden Lamb (who is also coloring her new book Sisters!).
Explorer: The Lost Islands is edited by Kazu Kibuishi and features new full-color stories by , Jason Caffoe (the Flight series), Jake Parker (the Missile Mouse series), Michel Gagne ("The Saga of Rex"), Katie and Steven Shanahan (the Flight series), and up-and-coming new artist Chrystin Garland.