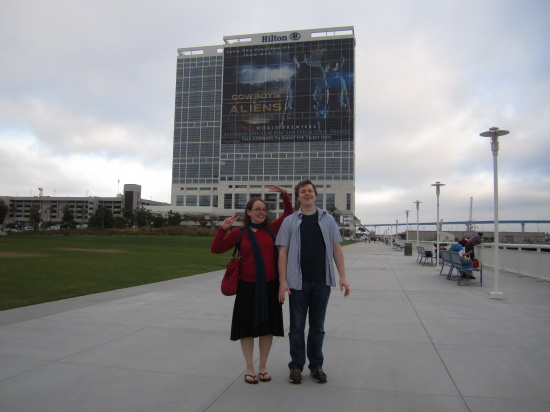 I headed down to San Diego with John Green and Raina Telgemeier, but this was our first Comic-Con in almost 10 years without a table in the Small Press area.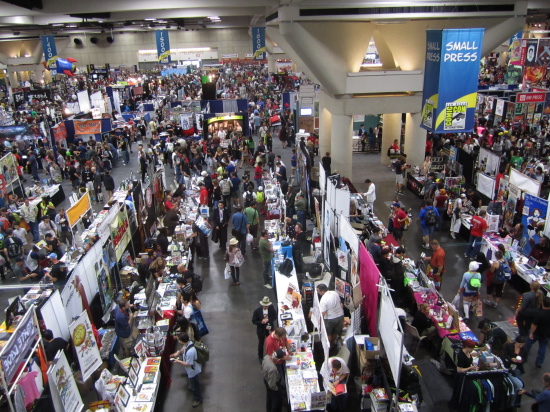 Thanks to our great friends at Flight Comics, we still had a place to call home, but with so many contributors behind the table, it's not the same level of responsibility as the usual set up. In some ways it was liberating. Rather than worrying about table costs and every book sold (or not), we just accepted that this was a business-related vacation.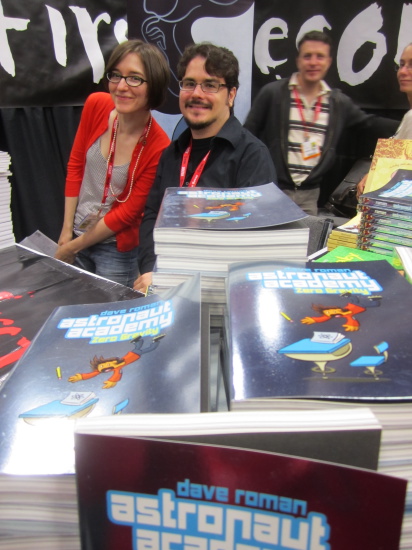 (With Vera Brosgol and Mark Siegel at the :01 First Second booth)
Between my scheduled signings at :01 First Second and SLG Publishing, I had more of a chance to wander the convention floor than in years past.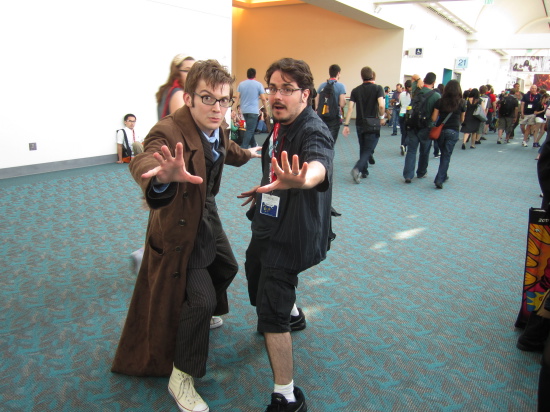 (With Kevin Coppa, who gets stopped for photos every 10 seconds when he's in his Doctor Who cosplay!)
Certain areas of the convention floor are the equivalent to being in a mosh pit. Costumes are more fun when they are parading by rather than bumping into you. I heard from a lot of friends and experienced for myself the pain of waiting in line, only to be cut off once the panel room was full. I don't mind waiting in lines at Disneyland as long as I know I'm getting on the ride eventually. But with Comic-Con there are no real guarantees. That said, the comic book-themed panels never seemed anywhere near as crowded as the panels about even the worst shows on television.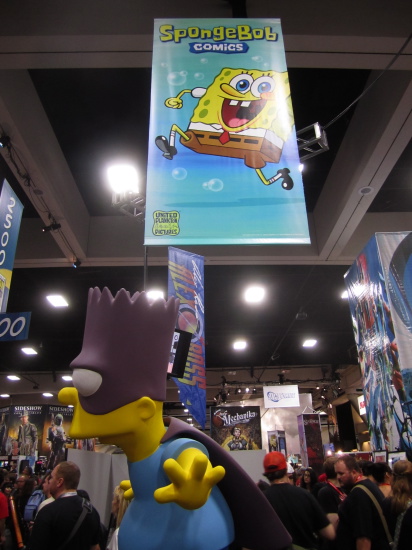 (Banner for SpongeBob comics, which are edited by Chris Duffy and published by Bongo)

I heard a lot of complaints about how Comic-Con is increasingly less about comics. But there seemed to be about the same amount of comics-related content, booths, panels, and guests as always. It's just that there are thousands more people who simply don't care about that stuff. They may enjoy pop-culture, video games, and even superheroes, but buying books just isn't in their budget. But they are passionate and dedicated to their fandoms, and are willing to wait in line to buy 4-day passes a year in advance, and will do anything for a chance to buy a limited edition Lego set.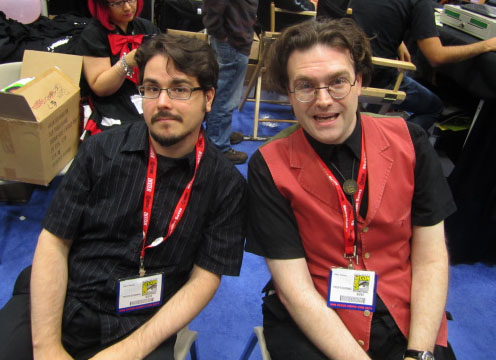 (With Rikki Simons at the SLG booth)
Disappointing as the comics/print ambivalence may be, I don't blame anyone for getting excited about all the other stuff. I love most of it, too. It's hard not to get excited about a giant Jake the Dog balloon from Adventure Time!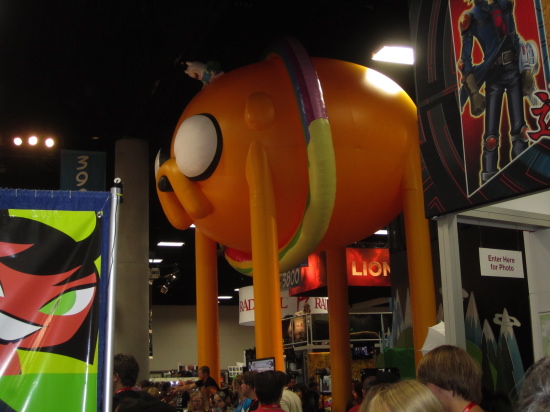 One the highlights of the Comic-Con this year was meeting Karen Prell, the puppeteer/voice of Red Fraggle. She's also an animator on the videogame Portal 2, and a really amazing person!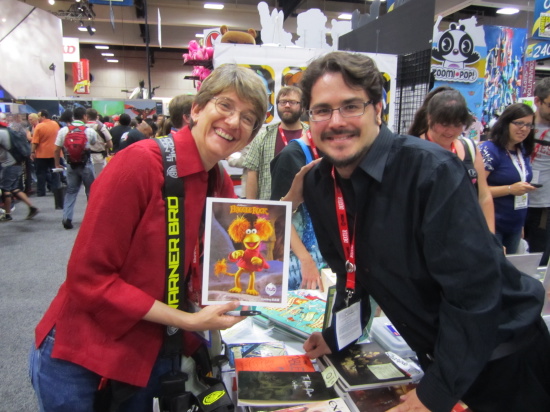 (With Karen Prell)
My favorite part of Comic-Con has always been a combination of meeting people whose work I really admire (especially when you least expect it, like on the convention floor) and running into old friends who are working hard doing what they love.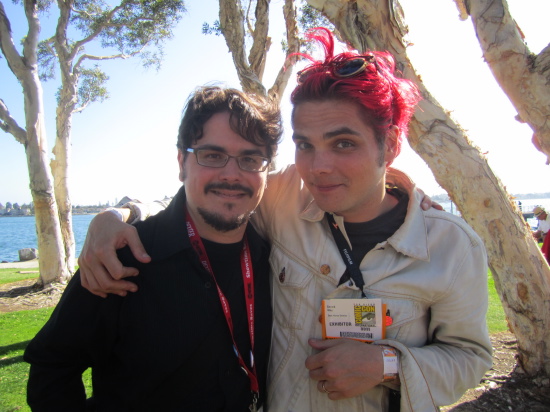 (With Gerard Way at the Embarcadero Marina Park )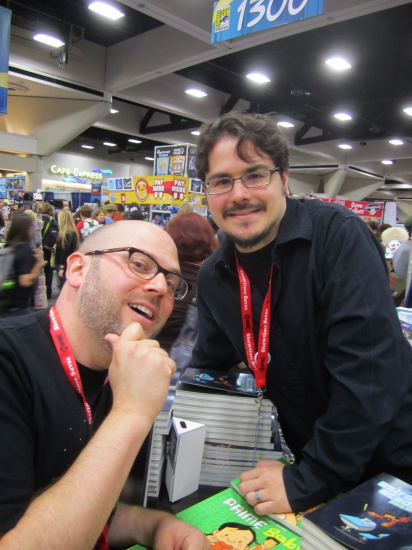 (With C.H. Greenblatt at the :01 First Second booth)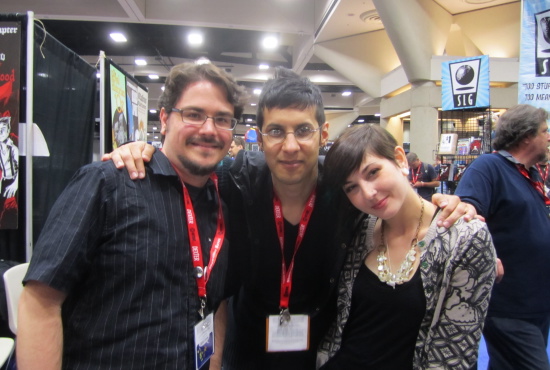 (With Jhonen Vasquez and J. Goldberg at SLG booth)
I'm usually tired at the end of a convention day, and then end up giving myself an asthma attack from laughing so hard at dinner. Especially when I sit next to these guys: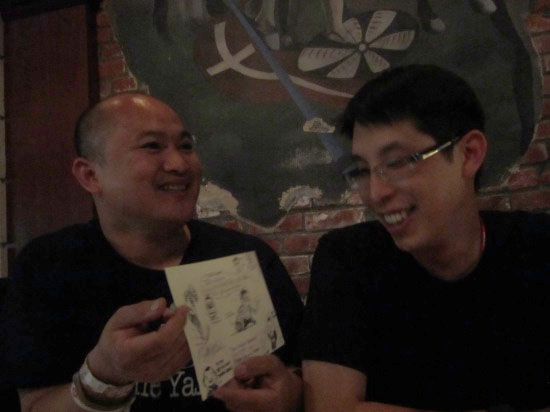 (Thien Pham and Gene Yang, two of the most fun people to have dinner with)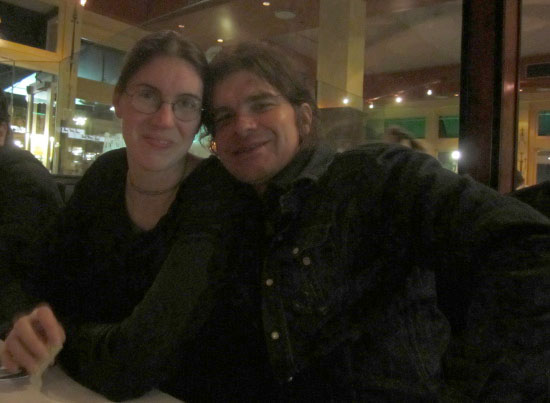 (Gina Gagliano and Paul Pope)
The Eisner Awards were of course unbelievable, because Raina's book SMILE won for Best Comic for Teens. I could not be more proud of her and was glad they announced her award at the beginning of the program, so she could relax and enjoy herself for the rest of the evening. Even though they can run long, I enjoy these ceremonies because I like seeing veterans and young talent getting a rare amount of recognition for their time dedicated to making great stories.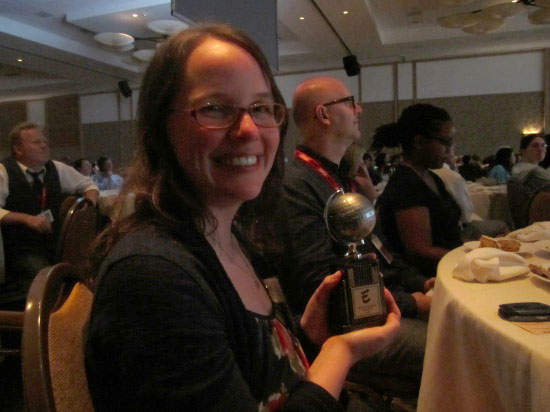 (Raina with her Eisner Award!)
I participated on several panels, including Love and Comics, Diversity in YA, a fan-run panel for "Avatar: The Last Airbender," and a Teen Comics Workshop, which has a recap and photos over at GeekMom.com.

(Korra puppet, Kevin Coppa, Zuko puppet, Kim Miranda ("Isaia"), and Erin ("Booter-Freak")

And of course a trip to San Diego wouldn't be complete without getting together with my cousins! We had a post-con celebration at Filippi's Pizza Grotto!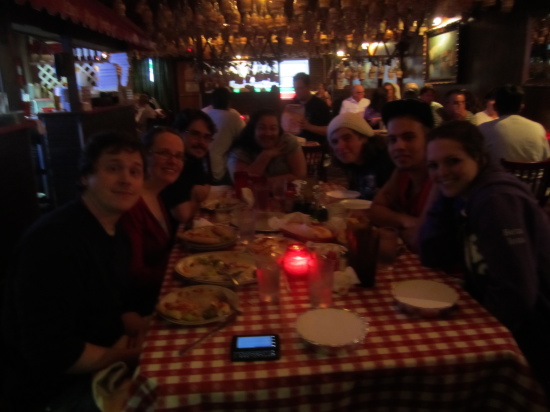 The five days of Comic-Con seem to go by way too fast. Luckily more and more people are coming to visit us at the New York Comic Con, but it still doesn't have the same magic as San Diego!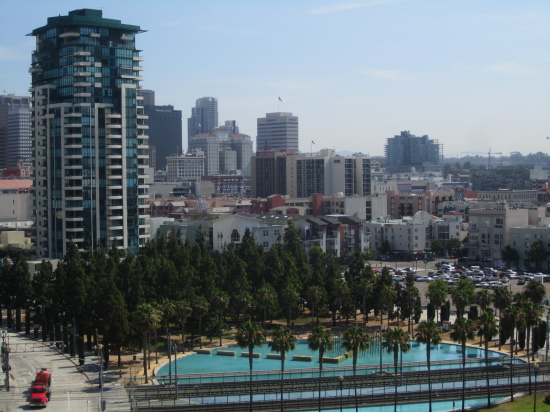 (view from our hotel)
Lots more over at my Flickr photo set!